Autospiel has participated in the Chumpcar and Lucky Dog racing series since 2013.
Chumpcar and Lucky Dog are endurance racing series with races ranging in length from 6 to 36 hours!
We have a driver roster of 4 to 6 drivers and drivers are selected depending on the length of a particular event. Driver are limited to 2 hours maximum per driving stint, which is also the maximum time most cars are able to go on a single tank of fuel.
Pit stops are a mandatory minimum 5 minutes when cars are refuelled. This gives us enough time to fill the tank, check the engine oil (quick check over for any leaks and the alternator belt too), check the tire wear and pressures, check the brake pads for wear, change the driver and service the driver drink and driver cooling system. The driver cooling system is interesting. We have undershirts with a series of pipes sown into them and a cool box in the car which is filled with water and ice. This is pumped to the drivers cool shirt to keep him cool. When it is first turned on, the driver usually gives us a loud "Ooh" on the radio, as the ice cold water first circulates through the shirt!
We have a 1980 Volkswagen Rabbit GTI, which has a 2.0 litre 16 valve engine, originally scourced from a Passat. We are required by the rules to have a full safety cage, 5 point seat belts, on board fire extinguisher system and remote electrical shut off switch. This car also has a fuel cell with quick filler accessed through the passenger rear window.
This car has been very successful, with a 1st place finish at a 6 hour race at Portland International Raceway and several 2nd and 3rd place finishes at Mazda Laguna Seca Raceway in Monterey, California, as well as at The Ridge Motorsports Park in Shelton, Washington.
An interesting story with this car was at the 36 hour race in Spokane, Washington. The engine blew at the 13th hour! Luckily we had found a spare engine on the Used Victoria classified's the week before the race and we decided to buy it and take it along with us! The engine was exactly as it had come out of the donor VW Passat. The only thing we did was replace the timing belt before leaving.
We set about changing the engine… All hands in, the whole team pitched in, even the girls, it took us 3 hours to change it. At the 16 hour mark, it was back in the race, with 20 hours still to go! We finished the race in 25th position with our driver Bruce Kaye taking the chequered flag. Sadly we lost Bruce to cancer in January 2017.
We have recently built a second car, this time a 2000 Volkswagen Golf. This car has had a 1.8t  4 cylinder engine. This car had a very successful race at The Ridge Motorsports Park in Shelton, Washington in April 2017 with a 2nd in class and 10th overall in the race on Saturday and we bettered that with a 1st in class and 9th overall on Sunday. Both races were 7 hours long and there were 72 cars in the field!
Shop Hours
Monday – Friday:
8:00 am – 5:00 pm
Saturday & Sunday:
Closed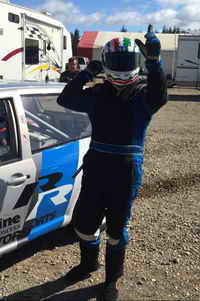 We brought our BMW X5 here to have a coolant leak repaired. The service was outstanding and honest. The price was 3 times less than the BMW dealership had quoted us as well. It is great to know we have a place to bring our vehicle that we can trust. Thank you Autospiel!

Last year I had an issue with the frame of my car; there was water getting in somehow and it was pooling on the floor and creating moisture everywhere. Phil and the team at Autospiel were so determined to figure out the problem and definitely went above on beyond to fix it. I am happy to report that this year there is no leak and the inside of my car is dry as a bone!

Whenever I have a issue, I know I can pop into Autospiel and ask them for advice. I would not go anywhere else!

I've been going to Autospiel for a couple of years now. I bought a used VW Tiguan where the local dealer was unable to diagnose problems and fix them. The Autospiel team were terrific at communication, estimates, pricing, and quality. Not only that, they are just a bunch of nice people. Highly recommended.
Autospiel German Auto Speciality
We specialize in German built Cars. BMW, Audi, Mercedes and Volkswagen repair and services. Quality service at an affordable price with personal attention.
3-2333 Government Street
Victoria, BC V8T 4P4
Tel: 250.360.0173
Fax: 250.360.0174